RainFlo 1.25 HP Submersible 3-Stage Pump
Pump HP: 1.25HP
Size: 7"L x 7"W x 22"H
Weight: 41 lbs.
Ships From: TX
This product ships in 48 hours!
The RainFlo R128B-3C series pumps is configured with all of the best features and performance of any pumps in their class for the rainwater collection industry. The R128B-3C is a heavy-duty, high performance 115V/60Hz 1.25 horsepower 3-stage submersible pump with 1-1/4" threaded inlet to easily accept a floating extractor. The pump is internally cooled by the water flowing through the inlet so the pump can be installed either submersed in a tank or externally on the ground or other mounting platform.

Construction consists of a 304 stainless steel housing, dual Italian mechanical seals, American thermal protection, GE-Noryl diffuser and impellers, external starting capacitor for serviceability and long life, 45 foot power cord, pump start box with master on/off switch and circuit breaker which also serves as a wire connection box.

The pump is particularly quiet and durable from its solid construction. The water end is installed under the motor which keeps the motor cooled with the pumped water. The Noryl impellers and diffusers offer high abrasion resistance while the Italian double mechanical seals ensure long life and enhance reliability.

The oil chamber is filled with non-toxic cooling oil. Ball bearings are self-lubricating and internal cast iron components are coated with polybutadiene varnish by electrophoresis to prevent corrosion which is sometimes associated with the typical lower pH of rainwater.

Installation may be oriented either vertical or horizontal so long as water is available at the intake to prevent a run-dry condition.
Pump Performance Curve: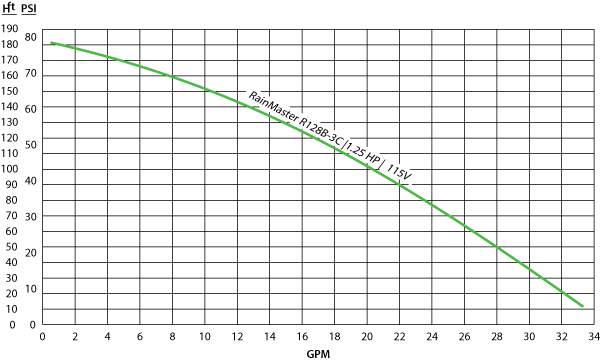 Performance Flow:

Performance Head:

Flow up to 34 GPM max

Head up to 180 feet max

Inlet Size:
1 1/4" FPT

System Presure:

GPM at 60 psi (0 Head)

GPM at 50 psi (0 Head)

Up to 78 psi

13

17

Nominal voltage range:

P1kW

P2kW

110V - 120V 60 Hz; 14A Max

1.24

0.95

Power cord:
45' Foot 16/3 w/ Ground (H07RN-F 4x1.5mm

²)

Warranty:
1 year manufacturer warranty

Dimensions:

Weight:

7" X 7" X 22" (including base)

41 lbs.

Protection:

Control Box Protection:

Thermal Protection:

Cooling:

Insulation Class:

Motor:

RPM:

IP68

IP44

Yes

Water Cooled / Intake

F

2-Pole Induction, Continuous Duty

3450

Certifications:
CE
This pump features run-dry protection
Pump Start Box Wiring Diagram and Capacitor Location: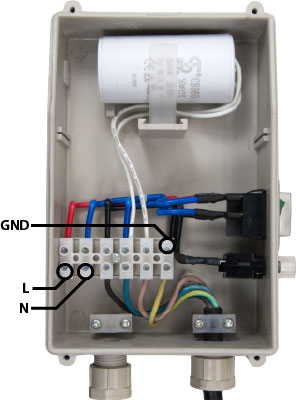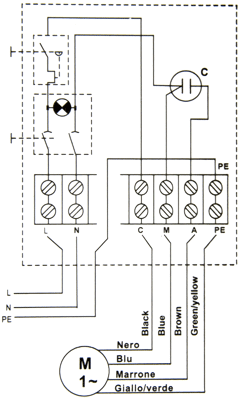 Downloadable Spec Sheet and Installation Instructions
These pumps are often refered to as: RainFlo Pumps, RainFlo Water Pumps, RainFlo 1.25HP Submersible Pump, RainFlo 1.25HP Submersible Rainwater Pump, RainFlo 1.25HP Submersible Water Pump, RainFlo 1.25HP Submersible Water Pumping System, RainFlo 1.25HP Submersible Automatic Pump, RainFlo 1.25HP Submersible Automatic Rainwater Pump, RainFlo 1.25HP Submersible Automatic Water Pumping System, RainFlo R128B, RainFlo Submersible Rainwater Harvesting Pumps, RainFlo Submersible Well Pumps, RainFlo Submersible Rainwater Pumps, Whole Home Submersible Rainwater Pump, Submersible Rainwater Pumps, Automatic Submersible Rainwater Pump, Submersible Water Booster Pumps, Submersible Well Booster Pumps, Submersible Smart Pumps, Submersible Tank Pumps, Submersible Water Tank Pumps, Submersible Water Pump Suppliers, Submersible Water Pumps For Sale, Submersible RainWater Pumps For Sale, Submersible Rain Harvesting Pumps for Sale, Submersible RainMaster Pumps For Sale